Welcome!
At The New Look Beauty Salon and Spa, you can relax while we handle all of your hair styling and spa needs. From the everyday to the extraordinary, we work to make your dreams come true.
"Break the Silence" for R
"NEW LOOK" Finishing Products have arrived! Try the Shine Drops, Shaping Spray or Extreme Hold Hair Spray.
10% of all sales will be donated to the National Ovarian Cancer Coalition
www.ovarian.org
Treat Your Hair to Our Hair Care Products!
Colorist by New Look shampoo, conditioners, protectants and treatments formulated to extend the overall life of your hair color and return it to a in incredibly youthful condition. QUENCH for thick, dry or coarse hair and THICKEN for fine to medium textured hair. Leave-in Protectant reduces dry time and eliminates tangles. Intensive Treatment Hair Mask for the distressed hair.
Ask about our special package deals!
Our new age-reversal facials address the real age of the skin by targeting its specific needs based on its grade of aging. Call to make an appointment to find out "What Age Is Your Skin?"
What's New?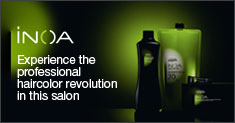 Introducing INOA
by Loreal Professional.
No Ammonia. No Odor.
Optimized scalp comfort Supreme respect for the hair*
Infinite haircolor power.
Sublime shine.
Covers up to 100% white
ODS Technology (oil delivery system): A breakthrough oil-based delivery system that maximized the effectiveness of the permanent haircolor process, while providing 2x more lipid protection to hair, compared to our leading professional permanent haircolor brand in the world.**
*Respects the essential amino acids and lipid balance of natural hair
**Repects the hair's natural protective film after 1 and 5 applications
The Barbershop
Experience
Enjoy our Barber Shop experience by incorporating a "Ritual of Renewal" customized specifically for the male guest. The full service includes Hot Towel Treatments and Scalp Massages using our very own specially formulated product line, The New Look for Men.
Check out the "Just for Men" page for more details.
Say Hi to Rosy!
If you have visited the salon recently, you may have noticed that we are now using a computer system to schedule appointments and manage the salon. "Rosy" will be serving as a tool to help us to better serve you. Make sure that we have your email address on file so we can send to appointment confirmations and reminders.
In the future, we will adding the ability for you to book your appointments online. Watch this space or sign up for our email list so we can keep you updated.
The New Look Salon and Spa

Sign Up...
for our email newsletter to find out about our promotions and new services!
&nbsp
Norma G. Sifuentez
Owner/Manager,
Color Specialist
Operating Hours:
Tuesday, Wednesday, Friday, & Saturday: 9am to 6pm
Thursday: 9am to 7pm
Se Habla Español